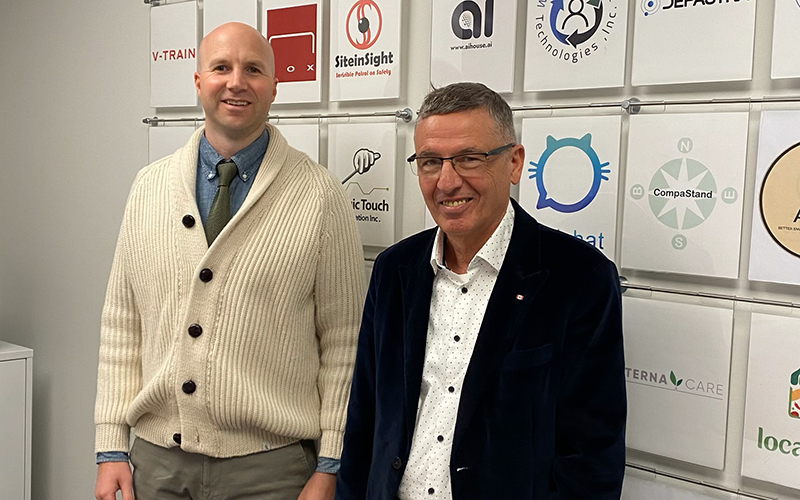 Empowered Startups has added another world-class amenity to its Canadian incubation program, and founders are already taking advantage of it. Steadfast in its commitment to provide its entrepreneurs with exceptional resources, Empowered Startups recently signed a Memorandum of Understanding (MOU) with the Canadian Intellectual Property Office (CIPO) to promote awareness, knowledge, and use of IP among Canadian businesses and innovators.  This agreement strengthens and formalizes a long-standing collaboration between the two organizations in supporting startups to develop IP strategies that enhance their ability to innovate without committing excessive resources.
Last week, numerous entrepreneurs seized the opportunity to meet with Dumitru Olariu, an Intellectual Property Advisor with CIPO, who Empowered Startups welcomed to its Vancouver office. Through these sessions, the entrepreneurs were able to discuss the IP strategy for their startups in addition to receiving advice and feedback on filing IP in Canada. Everyone within the Empowered Startups Start Up Visa program will have access to the people and information that will make launching their business, product, or both that much smoother.
"Given that we work with startups operating at the leading edge of technology, the how and when of pursuing IP is an important topic. I'm grateful to have this partnership with CIPO so that we can connect our entrepreneurs with a dedicated IP advisor that works with them one-to-one," said Matthew Pattinson, Incubator Manager, Canada at Empowered Startups.
CIPO is a special operating agency within the Government of Canada that delivers intellectual property (IP) services. Innovators coming to Canada may not be aware of all services available to protect their intellectual property, however, there are many elements that CIPO helps businesses navigate including copyright, patents, trademarks, and more. Through this new partnership, each organization will facilitate access to subject matter experts and business networks via the web, training programs, and other services. The two entities will also collaborate to create new products and services to bring even more value to those within the Empowered Startups incubation program.
"Partnerships such as this are a key component of the way we assist our entrepreneurs understand the intellectual property regime in Canada, as they launch and build new innovative businesses anchored in Canada," says Chris Lennon, President and General Counsel at Empowered Startups.
Learn how to apply for the Start Up Visa program with Empowered Startups today https://empoweredstartups.com/canada-startup-visa/